If you are a pinner (pinterest), or blockhead (the block) just like us, you will know there is a world of DIY projects, styling ideas, home renovations and interior design tips just waiting to be explored.
Interior design and home rennovation has undoubtebly become one of the most popular trends to hit our shores in the last few years. With the ever popular reno show the block, and nine's life channel, we are surrounded by house flipping and home styling everywhere we go and every one wants to be a part of it. 
However, as a qualified interior designer, I know that interior design and home styling is not something that comes naturally to all of us. Luckily for my business partner Katrina, she was born with an eye for design and detail, it comes naturally to her. For me however, it is definitley a skill that I have learned, and continue to learn every day. Therefore, I feel like this is good news to those who don't have much experience and dont know where to start when it comes to interior design. If you are having trouble decorating your home, we are here to help.
For me there is one really clear place to start and that is 'knowing your personal style'. Without knowing what you like and dislike, it is quite easy to get lost along the way. Following a clear design theme will create flow, character and unity throughout your entire home.
It is important to know, your style does not need to fit a particular 'box'. You do not need to be 'industrial' or 'rustic' but you can like parts of many different styles. People can come unstuck by feeling that their home needs to match a particular 'theme'. The most important thing is that everything is cohesive. Stick to the same colour palette, usually 3-4, similar hues (shades), simliar shapes, textiles and a range of textures and your personal style will form naturally as you go. Your home should tell a story of who you are and be a collection of things you love, and its easier then you think. You too can become an expert stylist!
Here are 3 top, fool proof tips anyone can use to help discover their design style and design brief for your home. 
Cut it, Pin it, Copy it!
1. Cut it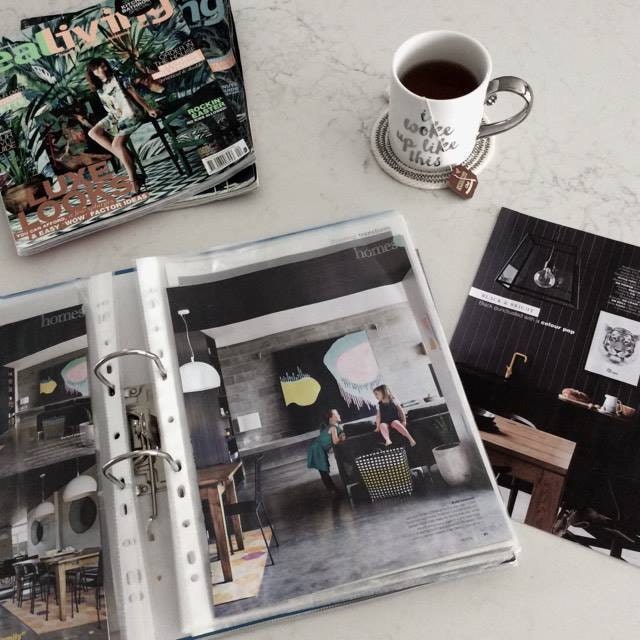 The best place to start is to visualise it. In order to achieve your dream look you need to be able to see it. One of the easiest methods to create the look that you are dreaming of is to create a 'dream home' portfolio. Cut it, rip it, stick it, collect it. We like to call it a 'look book'. Basically this is a portfolio of your dreams and desires for your home.
Collaborate a folder of magazine clippings and glued images of everything you love... cushions, plants, homewares, textures, finishes, appliances, floors, and artwork. Don't overlook anything, as everything in your home should compliment the other. 
Be sure to purchase some different home and interior design magazines, dont stick to the same ones that you always read as you may be missing designs and styles, that you dont yet know, you love! 
Most mags are targeted to a particular style, so be sure to get a range of magazines so that you can look at segments of every style. Or borrow some from a friend! As you go, you will start to get a feel for which magazines and styles you are drawn to. 
Look at the details in every design and pick and pull out the parts you love the most. This may be as simple as a particular cushion, or the look of an entire room. Be sure to cut and collect only the parts that you love, as this folder will end up to be a collaberation of everything you want in your home. It is the collaberation of all of these things that give your home your personal style.
2. Pin it.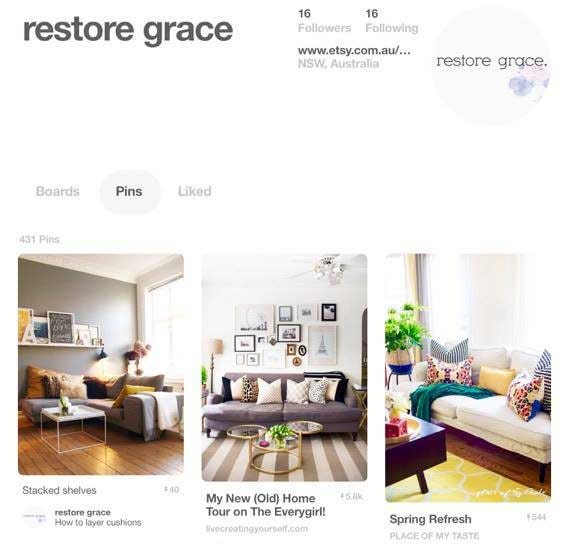 Pinterest is the amateaur designers best friend! Jump on, create folders and pin everything. Use pinterest as a digital version of your look book. Create folders for each room ie; kitchen, living room, dining room, bathroom, bedroom and exterior.
Use your boards and look book to create a list of the common themes that have occured. For example I have multiple images of;
- dark charcoals
- light timbers
- organic shapes
- unique/quirky architecture
- natural
- grey
- timber floor boards
- bold artwork
- blues
- pastel hues etc. 
You can then also create boards for each of the things in this list. Here you will then have a folder for artwork you like, floors, sofas, colours, wall coverings, home decor etc.
Hop on over to view our pins and our 'style' boards at www.au.pinterest.com.au/restoregrace for some inspiration!
3. Copy it.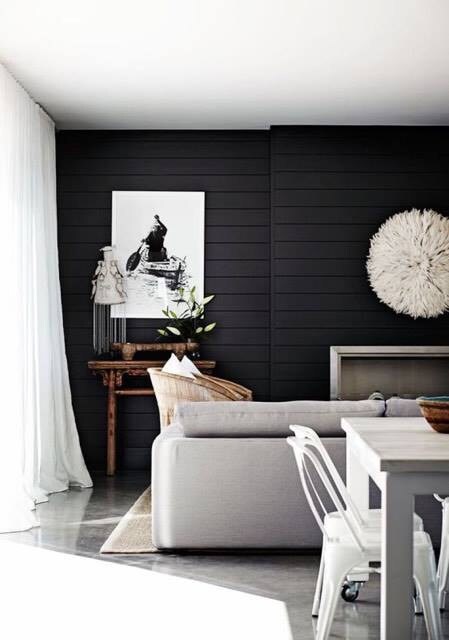 The easiest way to achieve your newly discovered style in your home is, copy it! 
Once you have a clear design list of all of the things that you love and want in your home it is important to stick to this when styling and purchasing. When you go shopping and find something you like ask yourself, if this the right colour, shape, timber or shade that matches my list?
Spend time going over your boards and folders and start to mirror these images and put them into action in your own home. If you like the styling of a coffee table in your folder, search for these items and copy it by styling them together in the same way. Its cheating, but its super simple!
Its also ok, to remove things in your home that dont neccessarily work anymore. Put them away for next time you feel like a change, or give them to a friend whose house it would look great in!
You will be surprised how the collaboration of these things will start to form your personal style right in front of you.
In my time as a home owner with a passion for design, I have found I have learnt my biggest lessons from myself in my own home. The more you play around, research, pin, rearrange and teach yourself, the more you can discover. I have tried many different ideas and my friends and family are always prepared to see what I have moved around at my place each time they visit. I feel like I am only just getting it right in my own home, so dont give up, you will get there, it takes time and practice to get it right. 
by Nicole Dietrich